The best way to protect your vehicle's value and ensure that it functions well for many years is to maintain it properly at regular intervals. Our Joe Myers Ford service team have answers to frequently asked automotive service questions.
How Often Does Ford Recommend an Oil Change?
It is recommended that you get an oil change every 5,000 miles to 15,000 miles or every six months, whichever comes first. Those who drive their car in tougher conditions should consider performing oil changes more frequently, as well as the filter. We also suggest reading the owner's manual to determine the specific guidelines for oil changes, depending on your model and oil used. Routine oil changes are necessary to keep the parts lubricated and avoid issues with the engine.
When Should I Replace My Tires?
Tire life varies depending on tire type, mileage, and driving conditions. It is recommended to replace the tires when they have less than 2/32" tread, which is when they're typically on the verge of failure. Our service department can test the tire tread depth and will inform you of when to replace the tires. Using a penny, check your tread. If you can see Abraham Lincoln's head, the tread is too thin. Other signs include tears and worn spots on your tires.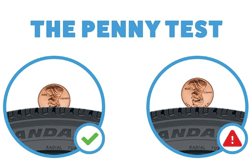 Do I Have to Pay For a Recall?
Generally, no, recalls that are performed on vehicles do not mean that the vehicle is defective. Recalls are extremely common for all makes and models and are fully covered by the manufacturer. You'll receive a letter in the mail or an e-mail notifying you of the recall. We recommend scheduling an appointment with our service department immediately to ensure your vehicle is safe to operate.
Will My Warranty Cover My Repairs?
Each warranty varies with what is covered, which makes it necessary to research the types of repairs that can be fixed without having to pay out of pocket. Most mechanical issues that develop are covered by warranties if the vehicle is under a specific mileage.
What Services Does Your Maintenance Department Cover?
Services that are offered at our service department include oil changes, brake repair, alignment, battery replacement, AC repair, transmission maintenance, and more. In addition to Ford models, we service all makes and models of vehicles due to our technicians' high level of training and expertise.
Do You Have Loaner Vehicles or a Shuttle?
Our dealership is proud to offer rental cars to our customers for those who still need a reliable mode of transportation as the work is performed on the vehicle. Loaner vehicles are also available through our establishment with newer models provided. Additionally, a complimentary shuttle service is provided and can drop you off at your home, office, or a business district for added convenience. If you prefer to stay at our dealership until the maintenance or repairs are completed, we offer waiting rooms with complimentary Wi-Fi, televisions, magazines, and refreshments.