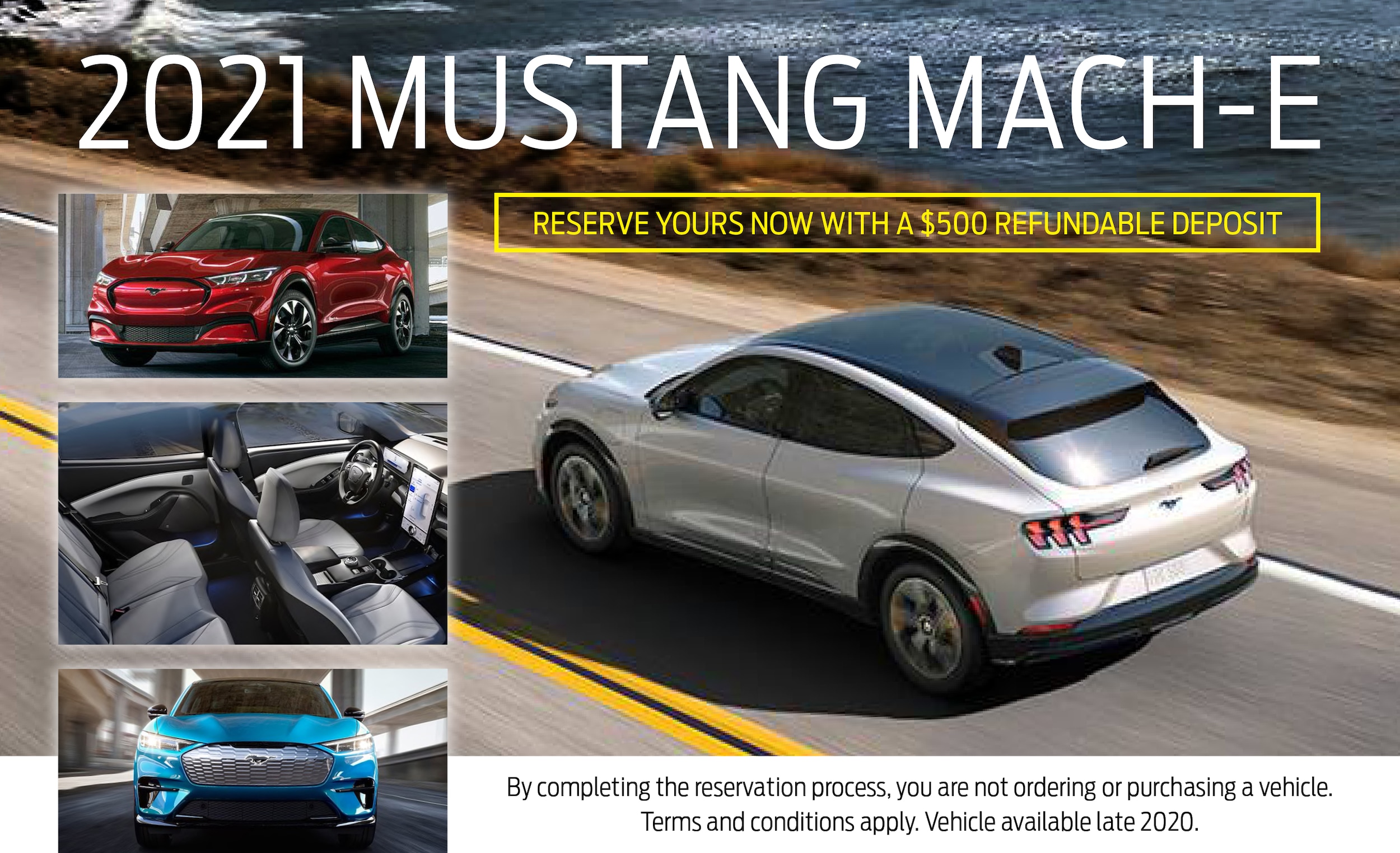 Meet the All-New 2021 Ford Mustang Mach-E!
While Ford has made minor updates and refreshments to the ever-popular Mustang over the years, it now proudly releases a new member of the Mustang family for the 2021 model year. The new Mustang Mach-E delivers exceptional power and performance in a crossover SUV body. Setting the Mach-E apart from the crowd is the fact that its power derives from an all-electric motor. There are three electric motors available with the Mach-E, which vary in availability based on the trim level that you choose. The Mach-E is designed for your comfort and safety, with a high-end interior that includes comfortable and spacious seating for five adults, a class-leading infotainment display screen, and a digital display for the driver up-to-the-minute details on the Mach-E's performance, and more. In addition to the standard features available by trim, you have many options to give the Mach-E a custom finish with add-on special packages and amenities offered by the trim level.
Mustang Mach-E Highlights
World-class power and performance are certainly highlights of the 2020 Mach-E. The base engine has the same power output of 190 kW (255 HP) on both the all-wheel drive and rear-wheel drive configurations. The second engine, standard on the First Edition trim, produces just over 330 HP and 248 kW. The First Edition is offered in the Mach-E's exclusive electric all-wheel drive. The GT, a custom performance trim, gets its own engine that creates more than 342 kW (450 HP) and an impressive 612 LB-FT of peak torque.
The Mach-E excels in many other areas, too. At first glance, you'll notice its captivating exterior characterized by signature LED lights, sequential rear turn signals, LED reflector lights with automatic high beams, and a hands-free liftgate on select models. Some trims also have their own unique features such as custom badges and red-painted brake calipers. Inside, all trims of the Mach-E get a 15.5-inch infotainment display screen and an additional digital cluster with a 10.2-inch screen. Some trims can be ordered with a panoramic glass roof.
Available Models
In total, there are five models available with the 2021 Mach-E. Four are sub-trims of the standard Mach-E, while the fifth is a special edition called the GT. The Mach-E family starts with the Select, followed by the Premium, First Edition, and California Route 1.
If you're eager to get updates of the 2021 Ford Mustang Mach-E SUV or would like to reserve yours today, don't hesitate to contact our dealership.