There are many components underneath the hood that need regular care. The transmission is one of the most important. Without a properly running transmission, your vehicle will fail to provide the efficient operation that you deserve. Furthermore, it diminishes the life expectancy of the transmission, leaving you to replace it sooner. Take a look at some of the most common transmission repair questions below and do not delay service when it is time.
When Should I Change My Transmission Fluid?
It is recommended for most vehicles that the transmission fluid is changed once every three years or 36,000 miles. Maintaining the recommended transmission fluid service schedule prevents many of the common problems that drivers experience with this component of their vehicle. Follow the care instructions inside the vehicle owner's manual for proper service and maintenance times.
What Does the Transmission Dash Light Mean?

If you notice the transmission light on the dashboard is lit up in a bright red color, it is hard not to notice. But, exactly what does this warning light mean? There are many problems that can cause this light on the dashboard to light up. It is best to schedule service with our certified technicians for a proper diagnose and repair of your transmission issues.
Should I Repair or Replace My Transmission?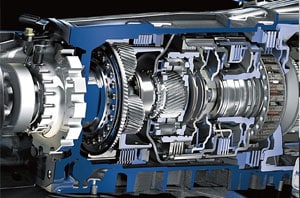 When problems with the transmission erupt, it leaves you to wonder if you should repair or replace the transmission. This is not a question that's easy to answer before an inspection of the transmission, however, since there are a few factors that impact the answer. Schedule professional service to learn which of these two options is best for your specific needs.
How Much Does Transmission Service Cost?
Preventative maintenance service is always cheaper than the costs of a repair, however, the amount you'll pay for transmission service varies according to the problem and other factors. The amount of money spent for transmission service is miniscule in comparison to the benefit this service offers. Check out coupons and special offers for even more savings.
Service Hours
Monday

7am-7pm

Tuesday

7am-7pm

Wednesday

7am-7pm

Thursday

7am-7pm

Friday

7am-7pm

Saturday

7am-4pm

Sunday

Closed