Haven't bothered checking your tires for a while? By  neglecting them you're not only jeopardizing your daily safety, but also  potentially wasting money. When customers at our tire shop in Houston ask how  often to check tires, we recommend inspecting them monthly as well as before  heading on road trips.
There are a number of ways to tell if your tires are no  longer safe, including:
Tread that's 2/32" or less
Cracks and cuts in the rubber
Bulging or bubbles in the sidewall
Excessively uneven tread wear
Strong vibration when driving at high speeds
When shopping for new Ford tires in Houston, contact us  for a quote before heading to chains like Discount Tire or Goodyear Auto Service  Center. Schedule  an appointment online and make sure you view our service coupons to see if we have any specials before you visit. Even without coupons, we offer  competitive prices, along with perks like free car washes with every service visit, as well as complimentary refreshments and Wi-Fi for guests in our  waiting lounge.
Tire Alignment Near Me
Have you been experiencing noticeable pulling, uneven  tread wear or a crooked-looking steering wheel? If so, visit us for your next  tire alignment in Houston. Keep in mind that while there are some obvious signs  of misalignment, often times drivers can't tell because they gradually compensate as their alignment changes. Therefore, it's a good idea to have professional alignment checks every six months.
When to Rotate & Balance Tires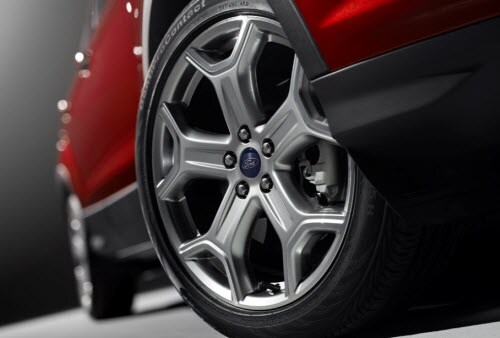 It's recommended to rotate tires about every six months, while wheel balancing should be conducted approximately every 3,000 to 6,000  miles. When you don't rotate your tires, you'll notice that the ones in front wear out much faster, while skipping wheel balances will eventually cause uncomfortable vibration, especially when driving at faster speeds.
Tire Repair Shop Near Me in Houston
If you're looking for a reputable tire shop in Houston  with excellent prices and service, look no further than Joe Myers Ford's  service department. Visit us to find Ford Fusion, F-150, Edge and Mustang tires  - or tires for any other make and model. We offer products from Goodyear, Bridgestone, Dunlop, Michelin and other well-known manufacturers.