You rely on your Ford air conditioner to provide you with a convenient method of climate control while you are on the road. In fact, on the warmest days of the year, the functionality of your AC system is essential to your health. As important as this component is to your experience on the road, the unfortunate reality is that it is not immune to various types of damage. Whether your air conditioner is showing signs of a minor repair problem or has completely stopped working, reach out to our certified auto repair professionals for an appointment.
Why Is My Air Conditioner Putting Out Warm Air?
You may be able to easily control the temperature inside your vehicle by adjusting the dial, but you may have noticed that the system only puts out warm air regardless of how cool you set it. A constant stream of warm air from your AC unit may be the result of damage to the condenser, the compressor, the blower or the vacuum seals. Some drivers may initially feel cool air when they turn the AC on, but this coolness may quickly fade away. If this is your experience with warm air from your air conditioner, the issue could be related to damaged fuses, valves or compressor clutch components. Through diagnostic processes, our technicians can quickly tell you the cause of the issue and what repair work is required to fix the problem.
Why Will My Air Conditioner Not Run on the Highest Airflow Setting?

In order to be cool and comfortable in your Ford on warm days, you need the AC system to emit cool air, and you need to adjust the airflow to your satisfaction. Some types of AC damage can decrease airflow dramatically, such as broken seals, damaged hoses and a dirty evaporator case. If you have been struggling with temperature control in your Ford because of an airflow issue, we are available to help. Our technicians have access to all parts and equipment that are commonly needed to address this AC issue and many other related problems.
Is My Ford Air Conditioner Leaking?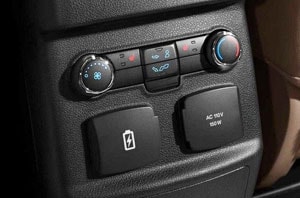 Many Ford drivers are aware that moisture may drip out of the bottom of a vehicle when the air conditioner is running in a parked car or for a few minutes after the car's engine is turned off. While this moisture is not the sign of a leak, there are other signs of a leak that you should be aware of. A leak or damage in various areas of the air conditioning system can result in difficulty controlling the temperature of the air or the power of the airflow.
Many drivers overlook a seemingly minor issue that may be the sign of a leak. Be aware that any leak could allow exterior moisture to mix with refrigerant in the system, and this interaction can lead to widespread corrosion. If you suspect that your AC system is leaking, schedule a diagnostic appointment soon. We use a dye method or sniffer equipment to identify all sizes of leaks.
Can You Fix a Smelly Air Conditioner?
Even when the air conditioner seems to function well for temperature control, it may still require service. Various types of dirt or filth can make the interior of your car stink. This includes when the air filter is dirty and when mold growth is present. Mold could grow on the evaporator case when a blocked drain line results in moisture backing up onto it. From removing the clog and cleaning the mold to replacing the air filter, we can take all necessary steps to rectify this unpleasant problem. For assistance with any type of AC issue with your Ford, contact us for an appointment.
Service Hours
Monday

7:00am - 7:00pm

Tuesday

7:00am - 7:00pm

Wednesday

7:00am - 7:00pm

Thursday

7:00am - 7:00pm

Friday

7:00am - 7:00pm

Saturday

7:00am - 4:00pm

Sunday

Closed