Welcome to Joe Myers Ford's Flex Review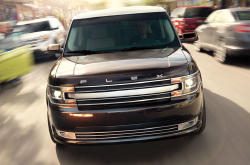 You might be wondering what's new in the 2013 Ford Flex from Joe Myers Ford. As it turns out, quite a bit! There's even more to love this year thanks to an upgraded exterior, interior and features. Ford Flex shoppers in Houston can count on technological amenities like the next-generation MyFord Touch and SYNC connectivity system, which now allows for easier menu navigation and data management for all of your music, comfort settings, navigation and apps. Other new interior features include a revised driver instrument panel that's sleeker and more logically organized, and a new SelectShift thumb shifter for easy switching between manual and automatic drive modes.
Ford Flex buyers in the Houston area will probably be most impressed by what Ford has done to the 2013 Flex's exterior. The front end is completely redesigned, rounding out last year's boxy edges for a smoother, sleeker look. New fascia, headlights and a large Flex badge have been added to give it a commanding, yet elegant appearance. Shoppers can also opt for new enhancements like rain-sensing automatic windshield wipers and a variety of wheel options. Those are just a few of the new items on this year's model; read the 2013 Ford Flex review below to find out even more about Ford's most distinctive full-size SUV to date.
Flex Video Review - Specs, Features & More
2013 Flex vs the Competition - Compare Features & Specs
Check out the 2013 Ford Flex alongside versus similar autos like the 2013 Chevrolet Tahoe, Dodge Durango, Honda Odyssey and the Buick Enclave, and you will notice that the 2013 Flex outperforms those vehicles in loads areas. See the reasons see why!
2013 Ford Flex MPG: 17 city / 24 highway
2013 Ford Flex Seats: 7 passengers
2013 Ford Flex MSRP: $30,885
2013 Ford Flex 0-60 MPH in 7 seconds
2013 Ford Flex Colors: Ruby Red, White Suede, Tuxedo Black, Mineral Gray, etc...
2013 Ford Flex Body Style(s): Midsize SUV
2013 Ford Flex Cargo Space: 20 cubic feet
Affordable Ford Service in Houston, Texas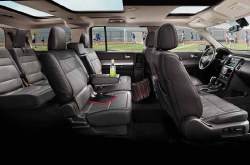 Get a extensive warranty on repairs - plus access to real Ford parts and wonderful Ford technicians - at your chief Houston area Ford repair center. Keep your Flex running nicely; have it serviced by Joe Myers Ford's skilled car repair employees. We can handle almost any task - from wiper blade or in-cabin air filter checkups to routine oil and filter changes; we also handle the demanding stuff, including Ford shock and strut repairs and more. As an added bonus, you can anticipate receiving inexpensive service at our Ford auto repair center in Houston. The link below this paragraph is your path to savings! Click now and you'll be linked to our coupon specials page!
2013 Ford Flex Offers Advanced Technology Amenities to Houston SUV Shoppers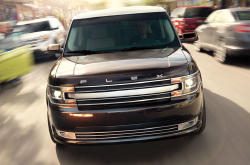 Isn't it about time you purchased a full-size SUV that isn't the same as the rest? You have your chance with the 2013 Ford Flex from Joe Myers Ford. Houston's leading Ford dealer is ready to offer you a price their competitors can't match, along with financing plans that work for any budget. Simply contact them using the form on the upper right-hand side of your screen or stop by for a visit. Joe Myers Ford representatives really enjoy taking prospective buyers out on a test drive, so don't hesitate to ask. And if you decide to purchase a Ford Flex, don't forget to talk to your salesman about trading in your current vehicle. Joe Myers Ford will provide you a written estimate good for several days so that you can compare the offer and find the best deal for you. You may choose to either apply the credit to your new purchase or simply walk away with cash in-hand. At Joe Myers Ford, it's all about you, your bottom line and your absolute satisfaction.