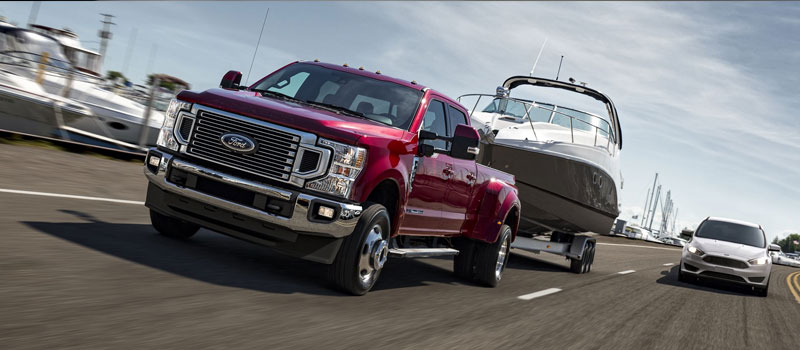 In 2019, Ford announced an innovative, new engine. We want to tell you more about this impressive machine now.
What Are this New Ford Engine Details?
Ford engineers built a massive V8. Its 7.3-liter displacement makes it America's largest mass-produced eight-cylinder engine. At 5,500 RPM, this new engine produces 430 horsepower and 475 torque foot-pounds.
What Can This New Engine Do?
Paired with the new TorqShift 10-speed, heavy-duty transmission, this engine helps pickup owners apply maximum force to their busy days. The top American automaker used overhead-valve design to draw extra power during this engine's downward strokes. It can haul a hefty load, uproot a massive tree stump or tow a big boat. If Ford puts this engine in a mass-produced car, it will obviously attain highway speeds quite quickly.
Which Ford Models Offer this Available Engine?
Currently, Ford provides this torque giant to two of its F-Series pickups, the Super Duty F-250 and the Super Duty F-350. Modified versions with reduced, but still impressive, power will soon be available in the brand's Medium Duty F-450, F-550, F-600, F-650 and F-700 models. Also, you will soon find a trimmed version of the 7.3-liter engine in Ford's F-53 and F-59 stripped-chassis setups. Ford has yet to announce plans to put this very-powerful engine in a coupe or sedan, but horsepower-focused blogs have speculated that it will find its way into a special-edition car.
To learn more about this exhilarating, new Ford engine, contact us. We will also happily schedule a convenient test drive for you.