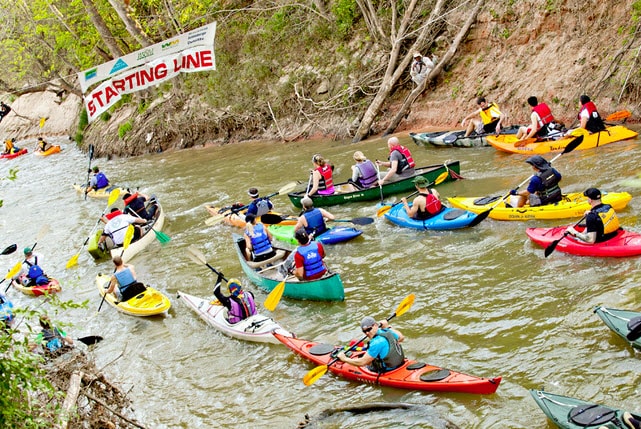 When:
Saturday, March 11, 2017
Where:
Starting line at 7700 San Felipe
If you're a canoe or kayak enthusiast, now's your chance to see if you can blow the competition out of the water! One of the Houston area's most popular outdoor events, the Buffalo Bayou Partnership Regatta, is making a splash as it returns for its 45th year.
Come race day, the excitement will kick off at 7:30 a.m., when participants begin collecting their packages and newcomers can sign up for day-of registration. Please note that if you want to take part in the timed race, you must register in advance.
After packet pickup, the 15-mile race begins at 9 a.m. There are several start times depending on your group:

You don't have to be an expert to participate by the way. Anyone 12 and up can paddle along the scenic Buffalo Bayou and take part in the post-race event! The after party is scheduled for 11 a.m. at Sesquicentennial Park, and includes a rock climbing wall, live musical entertainment and other activities. Food and beverage vendors will also be onsite.
If you're taking part for a chance to earn a prize, you'll want to stick around till 1 p.m. when honorees are announced. To learn even more about the 45th Annual Buffalo Bayou Partnership Regatta, visit the official website online.