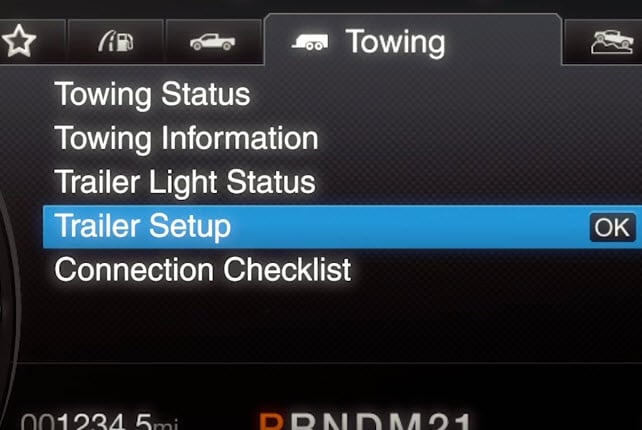 Several Ford Super Duty models offer a Trailer Reverse Guidance system that makes it easy to back up with a trailer. Some setup is required, so we've got instructions that'll help guide you through the process. Along with checking out the video at the bottom of the page, browse these steps to learn how to setup your Super Duty's Trailer Reverse Guidance system.
AUTOMATIC FEATURES
Before we get started, it's pertinent to mention that many of the system's automatic features are only available with conventional trailers. However, if you have a gooseneck or fifth-wheel, you can still do the set up and use the system views. You just won't have access to as many of the automatic features.
INITIAL SYSTEM SETUP
Once you have your truck and trailer hooked up, while you're on a level surface by the way, drive your pickup forward to align the wheels of the truck and trailer.


Next, you'll use the arrows on your steering wheel to choose the Towing menu and select Trailer Setup > Add Trailer > OK. You'll also use the arrows to input information into the system, starting with a trailer name. Once entered, click OK.


After this, you'll select the Trailer Brake Type, Trailer Brake Effort and Trailer Setup. Effort is usually "Low" unless you have a heavy trailer that requires more aggressive braking. The Trailer Setup is where you'll choose between Conventional, Fifth-Wheel and Gooseneck.


If you have blind spot monitoring, the system will also ask you to configure your trailer BLIS.
Continue following the prompts until you see a message that asks if you want to add Trailer Reverse Guidance. After this, you'll need to take measurements from the rearview camera to the center of your checkered sticker, the center of the hitch ball to the center of the sticker, the license plate to the center of the hitch ball and the tailgate to the center of the trailer axle.
For more details about this, as well as where to place your sticker and how to enter your measurements into the Trailer Reverse Guidance system, see the video below. If you have additional questions about setup, please contact Joe Myers Ford.