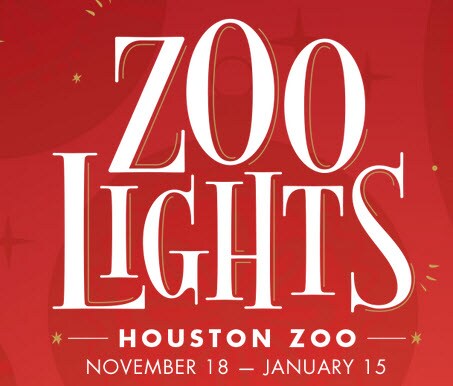 If you're smitten by all that glitters and glistens, Zoo Lights should be right up your alley. The one and only time of year to see the Houston Zoo covered in sparkling lights is here, and if you've never been, you won't want to miss this year's run of the event.
The zoo becomes a holiday wonderland with more than two million lights that cover the various paths and structures at the zoo. Plus, there are numerous holiday festivities like caroling, light shows set to Christmas music, and an amazing 33-foot Christmas tree that's packed with lights and ornaments. Visitors can also pick up hot cocoa and Christmas cookies!
Houston Zoo Lights opens after regular zoo hours, and while many of the animals are sleeping, there is still plenty to see. Along with dazzling lights and Christmas displays, visitors won't want to miss checking out the Kipp Aquarium, Bug House, and Reptile and Amphibian House, as well as the animals that will be awake.
One of the most anticipated annual holiday events in Houston, Zoo Lights is not to be missed. Visit the Houston Zoo website to learn more!
Dates & Hours
Nov. 18 - Jan. 15 (closed Dec. 24-25)
Opens at 6 p.m.
Ticket Prices
Value Nights: Monday-Thursday
$9.95 members / $14.95 non-members
Prime Nights: Friday-Sunday
$14.95 members / $19.95 non-members
Children 1 & under free