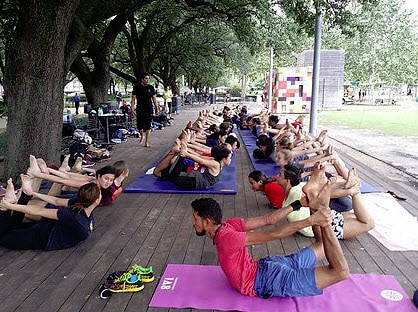 Adults and teens 13 and up are invited to explore the circus arts at Discovery Green, where Cirque La Vie instructors have been holding free drop-in lessons on Tuesday evenings.
With tricks that garner oohs and ahs, the flamboyant and awe-inspiring performances of Cirque La Vie are a joy to watch for young and old. The first contemporary circus company based in Houston, Cirque La Vie has enthralled thousands of viewers around the area with productions that feature dancers, acrobats and other colorful characters with crazy talents.
The company offers lessons to a wide age group in the areas of contortion and flexibility, low tight-rope walking, juggling, partner acrobatics and more. If you or your teens have ever been curious about the ground arts and acrobatics of the circus, instructors from Cirque La Vie are ready to guide you in a unique activity that encompasses both fitness and artistry.
To learn more about what to expect at the lessons, contact Cirque La Vie for details. Dates and hours for remaining lessons at Discovery Green are listed below.
Tuesday, Oct. 18
6 p.m. - 8 p.m.
Tuesday, Oct. 25
6 p.m. - 8 p.m.
Tuesday, Nov. 1
6 p.m. - 8 p.m.
Tuesday, Nov. 8
6 p.m. - 8 p.m.