The Expedition chief program engineer - Andrew Kernahan - is a father of four who knew what the stakes were when he took over. He's been a long-time Expedition owner and knows exactly what customers like him expect from the vehicle. Suffice it to say that the new Ford Expedition takes safety advances to whole new levels and sets the standard for future full-size SUV safety features. Kernahan explains that, "We are proud of the many features Expedition offers today that help keep our customers safe on the road."
What was the Announcement from the NHTSA?
Every year the NHTSA looks closely at full-size SUV models and then judges each of them on certain aspects of their safety features, namely crash test ratings. This is a rigorous system of judging because it's vital to get everything just right so that families know which SUVs are safest and which aren't.
One of the top safety designs in the Expedition are the dual seat belt pyrotechnic pretensioners in the anchor and retractor, and this design contributes to making families safer in the event of a crash. The NHTSA actually has crash tests and they carefully examine the performance of the Expedition and other full-size SUVs during and after a crash. It helps them to determine which vehicles are safest and which ones fall short.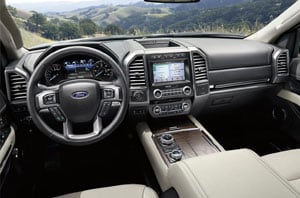 Add in a slew of other safety features: auto high beams, cross-traffic alert, and Pre-collision assist with pedestrian detection, and you've got a recipe for safety that only the Expedition can boast about. You can expect the model to evolve even more over the years and continue its legacy of excellence. We look forward to seeing everything the Expedition shows the world about safety and seeing it evolve on its own to become even safer in the coming years. It's something that is especially important in the full-size SUV category because so many families depend on these SUVs to get them safely from one place to the next.
Learn more about the Expedition safety features
There's a lot more to this luxurious and rugged vehicle than just crash test ratings. There's a whole slew of technology, comfort, and powertrain innovations that make it one of the toughest and most wanted SUVs on the road today. We invite you to learn more about the Ford Expedition and why it's the top safety pick, but we also invite you to test drive the Expedition for yourself and see just how much more it has to offer.
* NHTSA Government 5-Star Safety Ratings are part of the U.S. Department of Transportations New Car Assessment Program (www.safercar.gov). Model tested with standard side airbags (SAB).