The Ford Fusion Hybrid is perfectly positioned to help with high gas prices. Whether it's your daily commute or a longer trip, you'll find that the hybrid's fuel savings keep your costs down. Even better, this is a hybrid with ample horsepower and a package with ample features for your lifestyle.
What MPG Does the Ford Fusion Hybrid Get?
Good gas mileage helps counter high gas prices, allowing the Fusion Hybrid to keep driving when other car owners may have to cut back on their driving habits. The Fusion Hybrid engine can claim 42 mpg*. That's 41 mpg* highway and 43 mpg* city. If you compare this 42 mpg hybrid sedan to one that earns 25 mpg combined, the difference is clear.
As the Fusion Hybrid owner saves gas, the money saved adds up week after week, month after month and year after year. The car's excellent fuel economy helps it command a higher price at resale, giving owners another advantage.
What Kind of Performance Is Under the Hood?
With hybrid battery pack and electric motor in play, the powertrain output is 188 horsepower. You can compare that to many of today's regular mid size sedans, and you'll find that it is more powerful. Furthermore, it is 67 more horsepower than the Toyota Prius.
A Smart Gauge provides an EcoGuide to coach the driver. This can help owners get the most efficiency from their hybrid powertrain. You'll feel empowered in the effort to reduce your fuel waste and save more money at the gas pump.
Extra Electronic Interior Features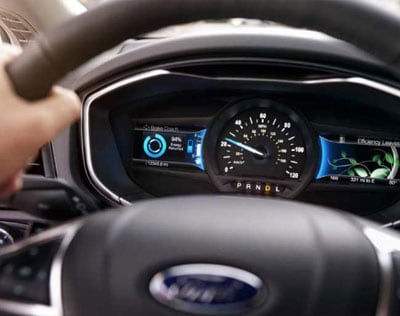 Lower travel costs aren't the only reason to choose the Ford Fusion Hybrid. The interior comes packed with the features that make it fun to buy a new car. The driver's chair is ten-way power adjustable. The front passenger enjoys a six-way power chair. The cabin measures 102 cubic feet with lots of wiggle room for the second row. The rear passengers also have their own AC/heat vents, which are controlled by a dual-zone programmable thermostat.
This high-tech car has an advanced touchscreen. Sync 3 is easy to use and provides many apps for streaming audio. The navigation system helps you find the shortest way. That can save gas too.
Does The Additional Technology Make the Fusion Hybrid Safer?
Ford has provided many ways to keep the Fusion Hybrid out of harm's way. A rearview camera helps you spot obstacles in reverse maneuvers. Ford is offering a blind spot monitor to keep drivers fully aware of side traffic. The forward collision warning system can include adaptive cruise control. There's an automatic parking system to take the stress out of parking maneuvers. For additional crash safety, the car's eight airbags can be supplemented by second-row inflatable seat belts.
The Fusion Hybrid is offered in SE, Titanium and Platinum editions. Find your match at Joe Myers Ford. A test drive is the best way to discover the true power of the Ford Fusion Hybrid.
* Based on 2018 EPA mileage ratings. Use for comparison purposes only. Your mileage will vary depending on how you drive and maintain your vehicle.